SAN DIEGO LEADERSHIP TRAINING
We are passionate about partnering with you to create solutions that optimize your talent and provide you with the results that matter most.
Our coaching programs are designed to explore the most relevant topics as they relate to the development of individuals, teams or interdepartmental groups. Whether there is one or multiple areas of focus, we offer custom or packaged coaching plans designed to fit your specific timing, challenges or needs.
We have a variety of programs that provide options to meet your specific objectives.
Our robust programs provide for transformational growth in one or more challenge areas, which reinforce the necessary introspection, commitment to being intentional, and shift in mindset and behaviors required to achieve lasting change. Our abbreviated programs are designed to be target-focused on a single challenge that has unexpectedly occurred and needs to be remedied with a strong sense of urgency.
OUR BUSINESS COACHING MODEL
ESTABLISH
Coaching Engagement
Gain Clarity on Current Challenges or Opportunities
Assess Coaching Readiness & Willingness
Review Elements of Coaching Engagement
Articulate Broad Desired Goals & Outcomes for Client and Sponsor
DISCOVER
Current & Future State
Gather & Deliver 360 Degree Feedback Review
Identify Values, Beliefs, Strengths, Behaviors, Habits & Motivators
Review Costs/Benefits of Action or No Action
Synthesize Vision for Future & Establish Specific Goals
CREATE
Coaching Plan
Co-Create Coaching Plan to Accelerate Desired Results
Ensure Plan Aligns with Organizational Goals & Client's Sponsor(s)
Identify New Behaviors to Practice
Identify Potential Obstacles & Define Contingency Plans
EXECUTE
Coaching Plan
Elevate Self-Awareness & Practicing New Behaviors
Discuss New Challenges & Create Alternative Approaches
Obtain Additional Feedback on Progress
Re-calibrate or Redefine Goals
CONCLUDE
Coaching Engagement
Debrief Coaching Effectiveness with Client
Calibrate Coaching Effectiveness with Sponsor(s)
Strategize for Sustained Success Beyond Coaching Engagement
Acknowledge Client Success
Our coaches are certified by accredited coaching schools and have obtained their coaching credentials from the International Coach Federation (ICF); the gold standard in coaching. Our coaches are seasoned business professionals with 20-30 years of hands-on, in-house, successful corporate experience in a wide variety of industries, company structures, and sizes.
Our Certified Coaches from Accredited Coaching Programs

Are Former Business Executives who have worked in a wide variety of industries

Understand one approach does not fit all circumstances and tailor their approach to the unique needs of the individual company types and sizes

Are International Coach Federation (ICF) Credentialed at PCC or MCC levels (more than 750 or 2,500 coaching hours)
Our Certified Coaches from Accredited Coaching Programs

Are Former Business Leaders who have worked in a wide variety of industries, company types, and sizes

Understand one approach does not fit all circumstances and tailor their approach to the unique needs of the individual

Are International Coach Federation (ICF) Credentialed at ACC or PCC levels (more than 100 or 750 coaching hours)
Many leaders have advanced their careers as a result of their financial or business skills coupled with their reputation for getting results that mattered. What we know is that with each transition up the leadership ladder there are dynamic shifts in the recipe required for success. When leaders try to apply what worked in their previous situation to a new set of circumstances (people, culture and more), it can result in derailment or complete failure.
Today, organizations cannot afford leadership derailment or failure as the 'war for talent' continues and the cost of turnover soars. Organizations need engagement and retention. We know the four elements for engaged employees are their connection to what they do, their leader, their team, and the culture. Leaders are at the heart of all these elements for engagement and retention and need the tools and knowledge to be effective.
Our approach to leadership development is strategic with a focus on transformation instead of checking a box. We work with you to understand what your leaders actually need rather than providing a one-size fits all approach. We specialize in facilitating robust learning sessions that challenge leaders' beliefs and expand self-awareness in support of the learning priorities of the individual and the needs of your business. Our sessions are delivered in a cohort setting at your location with a wide-variety of leadership topics to select from.
FACILITATED LEARNING TOPICS
Active Listening Essentials
Appreciative Inquiry Skills
Behavioral Interviewing & Smart Hiring
Building & Leveraging Team Dynamics
Building, Maintaining or Repairing Trust
Change Management Essentials
Coaching Essentials
Communicating Up Effectively
Communication Essentials
Delivering Performance Evaluations
Designing Performance Goals & Standards
Documenting Discipline Essentials
Effective Influencing Skills
Emotional & Social Intelligence
Knowing & Capitalizing on Your Strengths
Leadership Essentials
Leadership Presence & Personal Branding
Leading Effective Meetings Essentials
Managing Performance Challenges
Managing Time & Delegation Essentials
Navigating, Managing & Resolving Conflict
Optimizing Your Talent
Providing Performance Feedback
Uncovering your Unconscious Bias
The most successful organizations recognize that data provides more objective decision-making and reduces the influence of unconscious bias in hiring, promotions, training and more. Top leaders know that when used properly, assessments provide a robust, unbiased lens that helps drive strategy.
Our approach to assessments is strategic with a focus on helping you understand and link a quality tool to your desired outcome. As your partner, we will also help you understand how to use the assessment data properly from an implementation, data privacy and consistency basis.
As certified practitioners, we either debrief assessments with individuals one-on-one or conduct group debriefs for teams or larger interdepartmental groups. Either way, we will provide you with guidance on best practices for any of our assessment options.
Some Reasons Organizations use Assessments:
Build Self-Awareness

Career Pathing

Employee Engagement

Employee Relations

Hire the Right Talent

Leadership Development

Leadership Promotions

Managing Conflict

Merging Two Organizational Cultures
Onboarding New Hires

Reorganizations

Sales Skills Development

Succession Planning

Support Career Pathing Process

Team Assimilations

Team Building

Understand Learning Ability
ASSESSMENTS FOR INDIVIDUALS
Beneficial in 1:1 Coaching
Develop Successful Onboarding
Elevate Self-Awareness
Gauge Emotional & Social Intelligence
Identify Conflict Style
Identify Skills & Competencies
Learn Behaviors & Needs
Learn Preferences & Style
Support Career Pathing
Understand Learning Ability
Useful for Hiring
NOTE:  Many Individual Assessments can be used for Team/Group
ASSESSMENTS FOR TEAMS OR GROUPS
Beneficial in Team or Group Coaching
Elevate Individual & Team/Group Awareness/Alignment
Gauge Self & Groups' Emotional & Social Intelligence
Identifying Training Needs
Learn Self & Others' Behaviors & Needs
Learn Self & Others' Conflict Styles
Learn Self & Others' Preferences & Style
Navigate Succession Planning & Reorganizations
Useful in Hiring Balanced or Target-Focused Teams
Useful in Team Assimilations or Mergers/Acquisitions
Useful in Team Building Sessions
NOTE:  Many Individual Assessments can be used for Team/Group
SD Leadership Institute is a Certified Partner of The Predictive Index®, the world's leading Talent Optimization platform. We can help you hire the right talent, build world-class teams and manage people effectively to unlock potential and gain results.
Talent Optimization, a four-part discipline, is a model that will allow you to align your organization's business strategy with your organization's people strategy for optimal business results.
Predictive Index is a science-based methodology that allows you to understand the workplace motivations and drives of each candidate and employee so that you can ensure alignment, build successful teams, and achieve your business objectives faster than you ever thought possible.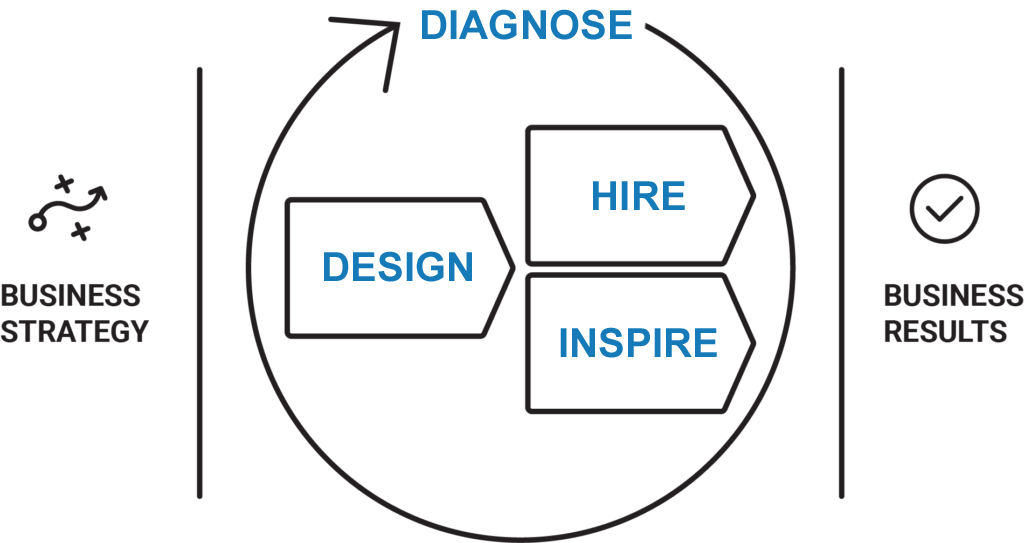 USE THE PREDICTIVE INDEX ASSESSMENT TO HELP WITH:
HIRING, SELECTION & ONBOARDING
Take the guesswork our of the selection process. Attract, select, hire, and onboard only the best fitting candidates.
EMPLOYEE ENGAGEMENT & RETENTION
Learn how to use your employees' superpowers and create an inspired culture with low turnover.
TEAM DEVELOPMENT
When leaders empower, teams perform. Give your team insignts into better ways to communicate, understand each other, and execute.
DISCOVERING HI-POs & LEADERS
Your talent is your most valuable investment. Identify those with the natural ability to lead and learn how to help them develop into inspiring leaders.
ENDING SALES SLUMPS
Poor management and job-fit gaps are the underlying cause of poor sales results. Get to the root of your problem!
HIRE WITH PREDICTIVE INDEX
Our Talent Optimization platform allows you to incorporate people-related data insights from workforce assessments so your organization can predict how a potential candidate will think and behave to ensure job fit.
The Predictive Index® has a proven track record of hiring practices:
98% of respondents feel PI enhances their hiring process
70% of respondents say PI helps to remove bias and subjectivity from their hiring process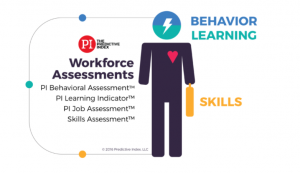 It all starts with the job. The PI Software allows you to define the job requirements through behavioral and cognitive job targets. The job assessment makes it easy to understand exactly what you need from your next hire or promotion.
As your candidates complete their assessments, you will be able to quickly and efficiently rank them based upon how they match with the job requirements you outlined. The software will allow you to understand any gaps and prepare you to interview confidently with a PI Interview Guide.
This assessment only takes 6 minutes! The results are coded into four core drives that allow you to predict workplace behaviors and needs, become more successful managers, and communicate more effectively in order to achieve desired results.
Not only can the behavioral assessment be utilized for hiring, it can also be utilized to enhance performance coaching and improve group dynamics. PI makes it easy to tailor your coaching plans to the behavioral drives and needs of your employees. The group analytics feature enables you to dissect team dynamics and avoid common workplace pitfalls. Work better together when you know what drives you and others. By understanding others, you and your managers will be able to fully unlock their potential.
This is a timed assessment that takes 12-minutes to complete. It measures a candidate's ability to learn, adapt and grasp new concepts.
General Cognitive assessments are among one of the best predictors of job performance and training success across all industries and job levels. When used as a key data point in the selection process, the prediction rate of successful candidates dramatically increases and you will be more likely to select individuals who can catch on quickly, solve problems, and figure things out on their own.
INSPIRE WITH PREDICTIVE INDEX
When you understand what truly drives your team, you can inspire them to excellence. Unlock the true potential of your people through our Inspire tool. It details how to manage your people based upon their personal behavioral style.
The Predictive Index® has a proven track record of boosting productivity:
67% of respondents say PI has helped them recognize stronger employee engagement throughout their organization
61% of respondents say PI has helped their organization figure out how to make employees more productive
PI provides you with the tools you need to lead effectively.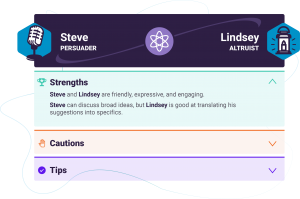 The PI Relationship Guide allows anyone in the organization to understand the interpersonal dynamics of two individuals based upon their unique styles. This report outlines how two individual's strengths combine and where people may have potential challenges, allowing productive conversation to occur that will solve communication challenges.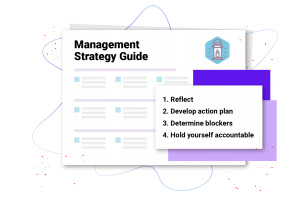 The PI Management Strategy Guide supports your leaders to be able to quickly understand how to shift their management style to meet the unique drives of those they lead. This report provides tailored advice on how to accommodate the needs of your people to support their full engagement.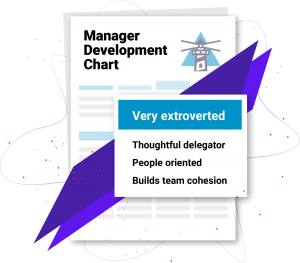 The PI Manager Development Charts increases your leaders' self-awareness by outlining how they may come across to others. Your leaders will be able to identify their own management strengths and caution areas, as well as be provided with tips to improve.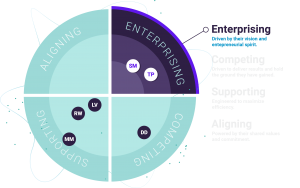 The Team Work Styles report will allow your organization to create effective teams. This report outlines how your team works together, identifies emerging patterns, highlights potential behavioral gaps, and helps to improve team dynamics.
CONTACT US TODAY
How confident are you that you have the right leaders on your team to support your strategic objectives in the coming years?
Are your teams and talent performing at optimal levels allowing your organization to perform at its best?
We can provide objective data that brings clarity to whether or not you have the right talent in place. For help with this and any other challenges you may be facing, contact us today.
SIGN UP FOR OUR NEWSLETTER